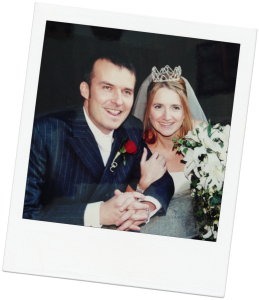 Weddings
First Dance, Flash Mobs, Entertainment…
We are now taking bookings for first dances, flash mobs and entertainment at weddings – yay!
Plus you can rest assured that if your booking cannot go ahead due to Covid 19, we will reschedule or refund you straightaway.
Book now to get the dates you want, as things are going to get busy!
Would you like to:
Wow your guests with your first dance at your wedding
Include your bridesmaids, ushers, best men, or family in a flash mob?
Get everyone involved
Have time with your friends at your wedding whilst we entertain the children?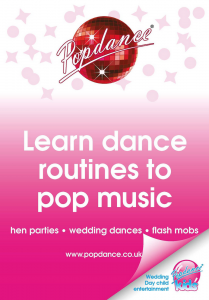 Make a huge impact on your special day:
Lure your guests into thinking you are doing a "traditional" first dance and then burst into your fabulous Popdance routine
Or perhaps start the dance as a couple and then your bridesmaids, best men, father of the bride join in
Or for those more adventurous, perhaps dance up the aisle 😉
And how about letting us entertain the children at your wedding whilst you enjoy a glass of champagne with your friends?
We take the children into another room and teach them your choice of Popdance routine
They could even perform the routine at your wedding reception – perhaps with you and your bride/groom
The opportunities are endless and we can tailor our packages to suit your specific requirements – whether you have a favourite song or want to choose from our ever expanding portfolio
It's all about your day!
Packages can be tailored to suit your requirements, however, we find that the hour and a half package is very popular.
First Dance: We would recommend 4 to 5 sessions of 1 hour duration when booking.
If you would like a longer session then this can be accommodated.
We can also provide the routines online so you can practise at home and also include any wedding guests that aren't able to attend the practise sessions. We don't want to leave anybody out! These, of course, can be viewed from anywhere in the world (oh how we love the power of the internet!)
You can provide your own venue, e.g. dance studio, school hall, community centre, or your own lounge – or we can provide the venue for you at an additional cost.
Entertaining the Children at the Wedding – We would recommend an hour to an hour and a half depending on the age and number of children
"What a fantastic idea – you are definitely booked – we are really looking forward to it."
And, of course, all of our Popdance Teachers are qualified, experienced, professional and CRB/DBS checked as well as being fabulously friendly, patient, great with the children and passionate about dance.