How it all began…..
I wanted to go to dance classes. I had no dance experience and wanted to get active after having my two children and fancied learning dance routines to pop music from the 80s, 90s and 00s. I'd always fancied being the backing dancer for Kylie Minogue 😉
I trawled the internet looking for something suitable for a 38 year old mum with two left feet and found nothing. I didn't want to be the frumpy one at the back of a class full of 16 year olds, I didn't want to jump up and down at an aerobic class – I wanted to go back to my youth and learn some simple dance routines to music that I loved.
So, having found nothing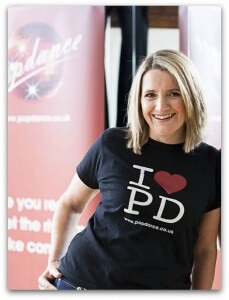 to suit me, I worked with amazing dance teachers and created Popdance! With my marketing background and a strong determination for the kind of class that I wanted, Popdance grew from strength to strength.
With our very first class appearing in St Albans in 2009, we now have classes across the UK and THE WORLD with more "popping" up all the time.
Due to demand, we launched Popdance Kids in 2010, with Popdance Tots following in January 2013 with Popdance Fit launching in 2015! Next comes Popdance Seniors for the overs 50s!
You can find Popdance in leisure centres, schools, nurseries, community centres, in activity camps, hotels, corporate events, at Brownies, cubs, at weddings, hen parties and partying everywhere – come and join us!
If you can't yet find Popdance in your area, get in touch and let us know!
We hope you have as much fun Popdancing as we do!
Sue Wybrow – Chief Legwarmer Wearer
Sue can be found Popdancing every Tuesday night in St Albans!